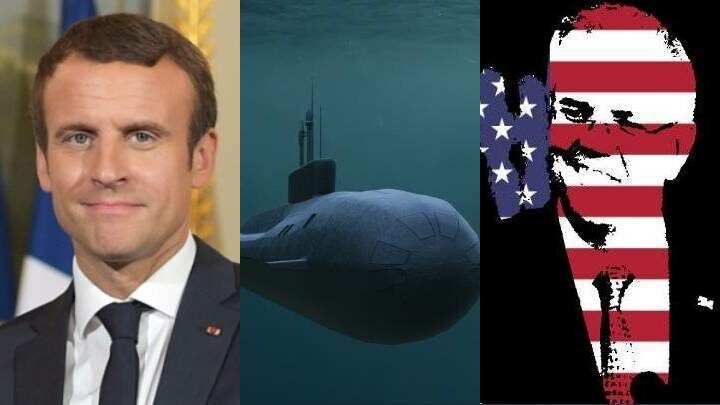 At the G20 summit in Rome last weekend, an Australian reporter asked president Emmanuel Macron whether he thought prime minister Scott Morrison had lied to him in relation to pulling out of a $90 billion submarine deal. And the French head of state responded directly, "I don't think, I know."
The president was referring to our PM not having officially informed the Macron government that he was in a secret dialogue with the US regarding a nuclear submarine deal, which would ultimately result in a Turnbull government contract with French company Naval being dropped.
In mid-September, when Morrison announced the formation of the trilateral AUKUS pact, he also unveiled the nuclear submarine deal with the US. And the Macron government claims this was the first time it was told that Australia was pulling out of the 2016 contract with its nation.
Straight after the AUKUS announcement, French foreign minister Jean-Yves Le Drian labelled the move "a stab in the back". The French ambassador was recalled from Australia. And as Macron's response last weekend would indicate, the relationship between the two nations remains fraught.
Palming it onto us all
"I don't wish to personalise this," Morrison told reporters in Glasgow the day following Macron's suggestion that he was a liar.
The PM made the remark just after he'd outlined there were long-term issues with the French deal, as their submarine technology no longer cut it due to the changing strategic concerns in the Indo-Pacific region. And he further claimed he'd told Macron he was looking at alternatives in June.
"The statements that were made questioning Australia's integrity and the slurs that have been placed on Australia – not me. I've got broad shoulders. I can deal with that," the PM told reporters.
"But those slurs, I'm not going to cop sledging at Australia. I'm not going to cop that on behalf of Australians."
However, Macron clearly made no adverse assertions about our nation, or Australians in general. Indeed, the French leader only implied that Morrison was a liar. Macron actually said he has "a lot of respect" for Australia, and he has "a lot of respect and friendship" for Australians.
So, effectively, after the PM publicly backstabbed France on behalf of all Australians – without consulting us – he then decided to rebuke an insult directed at him as if it was hurled at our entire nation, even though he claims he knows how to "deal with whatever people throw" at him.
Diplomacy with a hammer
And the day after Morrison palmed off his sledging onto all of us, a leaked private text message that Macron had sent to Morrison two days prior to the AUKUS announcement miraculously appeared in the Australian press.
"Should I expect good or bad news for our joint submarines ambitions?" queries the Macron text that was published in the Australian Financial Review on Tuesday. And the piece outlines that this was sent as our PM attempted to set up a call with the president days before going public.
The French government has stated that the leaking of the text has led its "confidence" in Australia to be "completely shattered", as "disclosing a text message exchange between heads of state… is a pretty crude and unconventional tactic". And the SMS proves no prior knowledge of the cancellation.
The liar from the Shire
But whatever side of the political divide you fall on with this diplomatic dispute, it still does not change the fact that Macron's assertion that Morrison is a liar is fairly spot on.
As he attended the Glasgow COP26 climate conference this week, former Australian prime minister Malcolm Turnbull told reporters that "Scott has always had a reputation for lying".
Over Morrison's time as PM, the Macron-Turnbull assertion has been plain to see, whether that be in relation to promising to establish a federal ICAC or to revoke laws allowing religious schools to expel LGBTQ students.
And there was that time the prime minister neglected to mention he was taking off to holiday in Hawaii during the unprecedented 2019-20 bushfire crisis.
But the current fallout with the French president has occurred in tandem with the annual United Nations climate conference, which has plainly shown our prime minister to be one of the great liars on the international stage at present.
Whilst in the States spruiking the AUKUS pact in late September, Morrison repeatedly told US reporters that he could not commit our country to net zero greenhouse gas emissions by 2050 until he produced a plan to do so, which he advised he would be doing prior to attending COP26.
Yet, when he did finally commit the nation to 2050 net zero, he did so without any plan whatsoever. Instead the prime minister produced a glossy document titled The Plan to Deliver Net Zero: The Australian Way, which, despite what it says on the cover, is no plan at all.
Rather, Morrison has blatantly lied to the Australian public, and in turn the entire globe, by delivering what is at best a vague commitment. He's produced no concrete attempt to chart our nation's emissions reductions.
Indeed, if anything, he produced a plan full of falsehoods that permits the fossil fuel industry to continue on with business as usual.
Receive all of our articles weekly