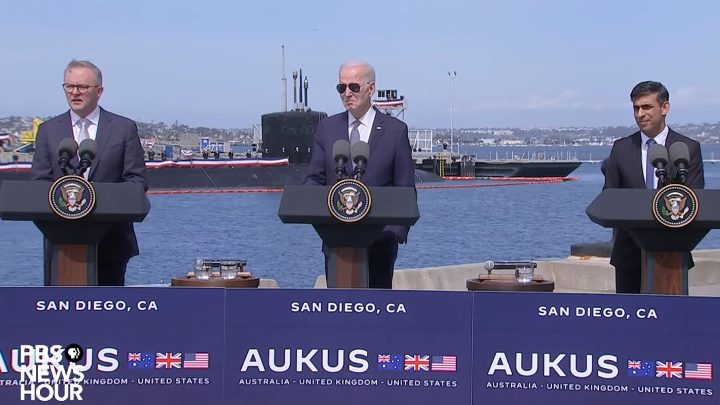 Crack open your rations, as the countdown to war on China just kicked off at 7.50 am Sydney time today, when, over in California, prime minister Anthony Albanese, US counterpart president Joe Biden and UK PM Rishi Sunak announced the AUKUS agenda with great fanfare.
The leaders unveiled the plans on Monday afternoon in California, which involve three phases relating to equipping our nation with nuclear-powered submarines and an unspoken escalation in the build up to war with China, with Australia's regional positioning being all-important.
The first phase will see the US increase visits of nuclear-powered (SSN) submarines to our country this year, with the UK navy doing the same from 2026, and by 2027, Australia's two AUKUS partners will have established a joint rotational presence of nuclear-powered subs over here.
"We are bound – above all – by our belief in a world where the sovereignty of every nation is respected – and the inherent dignity of every individual is upheld," Albanese told the press, seemingly unaware of the irony as he opened the gate to greater local US military presence.
The leaders further outlined that the second phase of AUKUS will see Australia purchasing three US Virginia class SSN subs early next decade, whilst the third involves AUKUS SSN submarines being built in this country in the 2040s, which is evidently set to be a local employment windfall.
Rations a-plenty or sort of
But going on what's set out in SMH's just released Red Alert series, it's likely the first phase of the AUKUS announcement is the most vital, as, according to the expert panel put together by the masthead, our nation could enter into a war with China within the next three years.
"AUKUS was a major step that the government took, but what a tragedy it doesn't actually address the strategic situation we're dealing with now," said former defence deputy secretary and China hawk Peter Jennings. "We have been mugged by time."
Indeed, the experts, engaged by one of the most respected newspapers in the nation, suggested that Australia should contemplate reinstating conscription and hosting US long-range missiles equipped with nuclear warheads.
But what Nine News didn't outline in its war propaganda series is that the conflict against our greatest trading partner will cause the mass death of young Australians and Chinese, and with supply lines cut, empty supermarket shelves, a lack of goods and rising inflation will be plentiful.
Receive all of our articles weekly