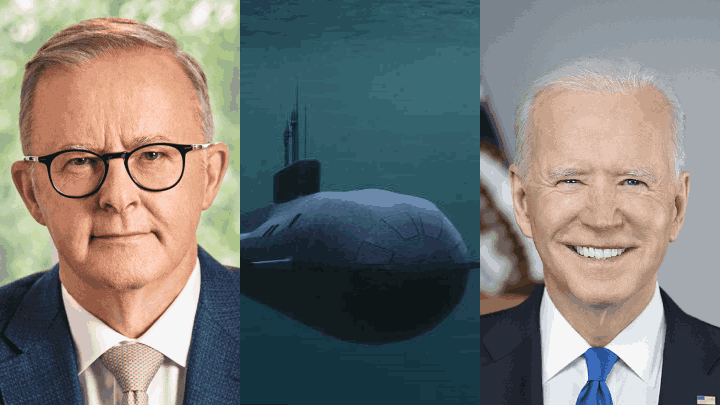 This nation's alliance with the US is often considered to guarantee Australian security. But the foundation of this strategic relationship, the 1951 ANZUS (Australia, New Zealand, United States) Treaty, provides no such assurance that Washington would step in to support us when under attack.
In the event of a foreign military assault on Australia, the US is only obliged to consult with our government on the matter, and then America will act in its own best interests.
Indeed, when it comes to a nuclear threat, ANZUS specifically provides no military backup in this regard.
International relations academic Dr Vince Scappatura raises these points in the chapter on military and defence that he authored in the 2022 IPAN Charting Our Own Course report, which weighs up the viability of the US-Australia alliance and our nation's involvement in US-led wars.
Based on the submissions of 283 civil society groups and individuals, the Independent and Peaceful Australia Network (IPAN) report, released last November, considers the prospect for change in regard to the US alliance and the possibility of "a truly independent foreign policy for Australia".
The report is the result of the IPAN people's inquiry, and, as Scappatura points out, the most common complaint made in its submissions was that our nation's alliance with the US is undermining security and leading to "unnecessary and costly wars".
US national interests
The report lists eight foreign theatres of war that Australia has followed the US into since World War II, which include the Korean War, Vietnam, the Gulf War, the War in Afghanistan, the Iraqi War, the war on the Islamic State in Iraq, Syria, as well as the fighting in Yemen, in a naval capacity.
The document further underscores that none of these military ventures were in the national interests of Australia, but in "one way or another" they were all "wars of empire".
And whilst questions surrounding the US-Australia alliance are always pertinent, right now they hold extra weight, as, since the Obama administration's 2011 Pivot to Asia, Washington has been building up its presence in Australia and throughout the Indo-Pacific region in response to a rising China.
This includes the establishment of the 2014 Force Posture Agreement between this country and the US, which has gifted US forces with unimpeded access to and at times complete control of specific Australian military facilities, as well as enhancing air force interoperability between nations.
The US Force Posture Initiatives in Australia have led to the annual rotation of over 2,500 US troops through military bases in the north of our country, and it's only recently been announced that US upgrades to RAAF Base Tindal have included a storage space for six nuclear-capable B-52 bombers.
So, this broad US access to dozens of Australian military facilities, coupled with the key joint facilities at Pine Gap and North West Cape, hardwires our nation into automatic military involvement in any major US war, especially the one currently brewing with Beijing.
Blindly backing empire
Australia's human rights record is increasingly in decline. A key global rights institutions watchdog has threatened to downgrade the status of our nation's body, Human Rights Watch just condemned us on multiple points, while the nation has again missed a torture treaty implementation deadline.
The IPAN report outlines that the unquestioned alignment with US interests is further costing our nation in terms of its human rights standing, as Washington's foreign policy often involves breaches of international law, the undermining of democracies and perpetrating war crimes.
Five myths that keep this nation locked into US-led wars are identified. These involve "whiteness" being central to Australian identity, necessary dependence on an imperial power, traditional loyalties to the US, fear of Asia, and the idea that war is imminent and better fought overseas.
However, these mindsets are based on the dated notion that the immediate threat a nation like Australia is facing is a foreign invasion, whereas today, a number of more imminent global system risks, such as climate change, pandemics and nuclear holocaust, require non-military solutions.
So, given these more pertinent risks, rushing into the AUKUS pact with the US and UK in September 2021, which has a key focus on equipping our nation with nuclear-powered submarines that threaten mainland China, serves to jeopardise Australian national security, rather than shore it up.
Heightened insecurity
Australians for War Powers Reform president Dr Alison Broinowski points out in her chapter on foreign policy that the "invasion myth" is what led to the ANZUS treaty, with the accompanying false proposition that the US is obliged to step in and defend this country in the case of an attack.
Meanwhile, the ever-increasing militarisation of Australian society has led to a lack of transparency around government, an increasingly authoritarian approach to policymaking, and it has maintained this country's subservience to powers like the US and the UK.
So, while Australia has stepped to the fore in the build up against China with its slated acquisition of nuclear-propelled subs, this proposition has increased Australia's viability as an alternative nuclear target for Beijing, whilst ANZUS secures no guaranteed nuclear protections for this country.
Broinowski also posits that the "undemocratically imposed" AUKUS arrangement could lead to nuclear-armed US warships and aircraft having unfettered access to miliary bases around this continent and hence, make any adversary of Washington's an instant enemy of Australia.
There are alternatives
As IPAN inquiry chair human rights lawyer Kellie Tranter points out in the report's executive summary, independent foreign policy would increase our nation's ability to resolve trade conflicts through goodwill, and as for defence, Australia should become independent and self-reliant.
IPAN goes onto recommend that ANZUS be renegotiated, so that it aligns with our nation's national security interests and the network further suggests that foreign military presence be eliminated from all military bases located in Australia.
As the most imminent security threats now require non-military solutions, IPAN further sees investment in peace as the way forward in addressing national security interests, through initiatives like diplomacy, foreign aid and engagement with international bodies.
And in terms of defending itself against adversaries, the report outlines that Australia should remove itself from its unquestioning alliance with the US, and establish a non-aligned stance, with this scenario preferably based upon "armed neutrality" focused on continental defence.
Receive all of our articles weekly