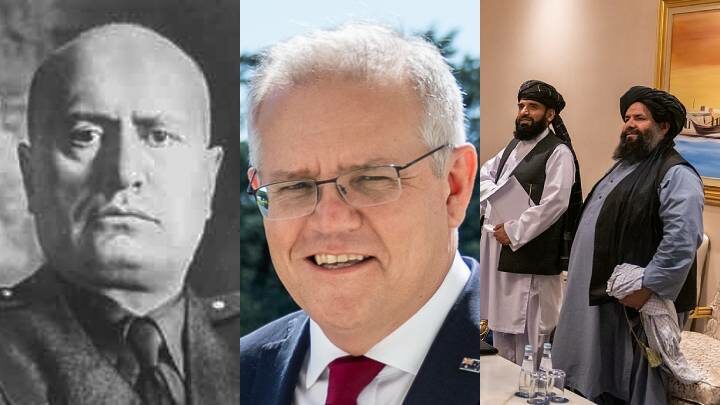 PM Scott Morrison last weekend recommitted to seeing the Religious Discrimination (RD) Bill passed if re-elected. He also underscored that the issue that stalled its passing this session – religious schools discriminating against LGBTQ people – will be separated from the broader legislation.
Australia doesn't have antidiscrimination laws to protect religious people. Law experts agree they're lacking, but they also understand that the RD Bill uses this as an excuse to undermine all antidiscrimination laws protecting minorities to bestow the right to discriminate upon those of faith.
The Pentecostal PM and others amongst the ever-growing Christian Right are promoting laws that legalise currently outlawed behaviours, as they concurrently claim the bill is all about protecting the altruistic values contained in faith doctrines, whether they be Judeo-Christian, Muslim or otherwise.
The reason Morrison shelved the RD Bill in February is that, after his government presented a deal whereby it would revoke the law allowing religious schools to expel gay kids, the majority of the house amended the legislation so it would also repeal the provision relating to trans students.
However, the devoutly religious leader of the nation spat the dummy over the idea that some of the most vulnerable children in the country could no longer be persecuted by religious institutions.
Morrison is the face of the religious right. It primarily wants to rollback recent rights gains made by LGBTIQ people. But in perusing the legislation further, it seeks to roll back protections against people based on their race, on people with disabilities, as well as women in general.
Upholding Christian liberties
Liberal Nationals MP George Christensen described Morrison's Religious Discrimination Bill 2022 as "weak" and "watered-down". However, Christensen, now running for Pauline Hanson's One Nation in the Senate, is an extremist Christian, similar to the drafters of the bill.
Section 12 of Morrison's bill provides people of faith with the right to make statements of belief, whether spoken or written, that would be currently defined as discriminatory and hence illegal if they consider the sentiment is in line with their religious doctrine and is made in good faith.
That section then lists ever single piece of state, territory and federal antidiscrimination legislation going right back to the 1970s and underscores that "a statement of belief, in and of itself, does not constitute discrimination for the purposes of any of" these bills.
The RD Bill also provides that religious bodies can act in a usually discriminatory manner in any area of public life when it follows their faith doctrine, and it reinforces the current abilities of religious schools to discriminate against LGBTQ students and teachers regardless of any contrary state law.
In a predominantly Christian society, where the Lord's Prayer continues to be recited in parliament, and conservative Pentecostal and Evangelical Christians are increasingly represented in politics to not recognise this as a push for Christian liberties is to be blinded by the right.
Persecuting trans kids
The RD Bill was triggered by the passing of marriage equality at the federal level in December 2017. The current PM took the cowardly road of abstaining from voting on those laws, and then unleashed a Christian crusade of old against the LGBTIQ community two weeks later that's never ceased.
The process, which included the Ruddock inquiry, gave rise to an understanding amongst the wider community that under section 38 of the Sex Discrimination Act 1984 (Cth), religious schools can sack LGBTIQ teachers and expel students of diverse sexualities. And the public freaked.
After smirking for a while in front of reporters about how this was an existing law and not of his doing, Morrison eventually promised to revoke the provision relating to the expelling of students. Then, like a number of other promises he made before the last federal election, he forgot about it.
The public didn't though and nor did other politicians.
So, after attorney general Michaela Cash cut a deal to remove the law to expel gay students from religious schools, five Liberal MPs crossed the floor to join the majority of the house in extending this to trans kids, via a Rebekha Sharkie put amendment.
Attacking trans people, as perceived as the most vulnerable members of the LGBTIQ community, is a key strategy of the Christian Right in pushing back against the queer rights movement, as Australian Christian Lobby head Martyn Iles noted at the 2021 Church and State Summit.
Since the RD Bill has been paused, the Coalition has continued its assault on the trans community via a bill introduced by Liberal Senator Claire Chandler seeking to ban trans people from same-sex sport and the championing of anti-trans tyrant Katherine Deves as Liberal candidate for Warringah.
Protecting which religion?
As Christianity is the majority religion in this country and holds the most power, there is no evidence it's under some sustained attack.
But there is a more general awareness that at the ground level our society is a more embracing multicultural, multi-faith and diverse community, with an understanding that there should be equality and rights extended to all. This is the real issue for those behind the RD Bill.
And a great irony about Morrison presenting as the champion of religious freedoms and a protector of those of faith is that the religious group that has been most overtly persecuted over the last decades is the Muslim community, and he's actually been using this to his own political advantage.
Australian Muslim Advocacy Network (AMAN) legal advisor Rita Jabri Markwell recently told Sydney Criminal Lawyers that section 37(2) of the RD Bill provides that the antidiscrimination protections for religions don't apply in relation to Commonwealth national security and intelligence laws.
The solicitor explained that taken together with a new law that, with ministerial approval, permits intelligence agencies to spy on "a class of Australian persons" if suspected of being involved with a proscribed terrorist organisation could have serious implications for the entire Muslim community.
The culture wars
The whole religious freedoms debate had state antidiscrimination laws in its sights from the beginning. And while the LGBTIQ community is the chief target, the RD Bill removes protections from everyone except for white Christian heterosexual men, who don't really need them.
The attack on transgender people in the United States is a lot further advanced than in Australia, with over 130 pieces of anti-trans legislation having been introduced across that nation's states over the last 12 months.
The religious right culture war in the US is the same campaign as is taking place in this country. It's well established that our nation is influenced by the States. And those waging the conservative assault over there are often referred to as Christian Fascists or the American Taliban.
A recently leaked US Supreme Court document reveals that it's about to overturn the 1973 case Roe versus Wade, which established a nationwide right for women to have abortions. And when this happens it will trigger state laws across that country revoking women's reproductive rights.
The governor of California Gavin Newsom has ensured his jurisdiction will remain a safe haven where women will continue to have the final say over what happens to their bodies. But he's also warned that revoking abortion rights is just the start and marriage equality could likely be next.
And with these conservative forces in the US and our country being intricately linked, this war on women's bodies should be of concern for all Australians. And this state control over women's bodies goes much further than any concerns around getting a vaccine.
Indeed, right now, is a concerning time for those who believe in a free and just society where diversity and difference is respected, and this extends to those disaffected individuals who support these powerful conservative forces that promise them freedoms whilst seeking to stamp them out.
Receive all of our articles weekly