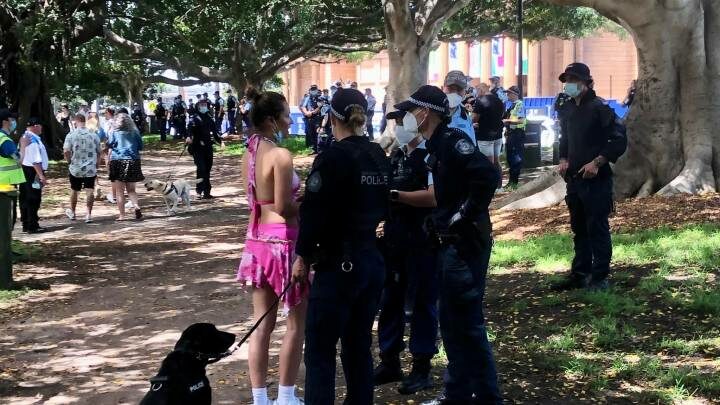 As COVID-19 cases soar to unprecedented levels statewide and testing measures are withdrawn to almost nonexistence, NSW police has decided it's an opportune moment to, once again, start cracking down on locals just trying to have a good time.
The NSW Police Force announced on Sunday morning that on New Year's Day, the Central Metropolitan Region Enforcement Squad conducted a high-visibility operation at Sydney's Field Day, arresting 85 individuals and charging them with drug-related offences.
Only two people were charged with drug supply, while 81 festivalgoers copped a personal possession charge, which is an offence that churches, medical experts and law bodies recommend be wiped from the books, while the ACT is looking likely to do just that in 2022.
Despite people dropping like flies from COVID statewide, newly hatched NSW premier Dominic Perrottet has encouraged one and all to get out there and party. Yet, he neglected to mention that drug dogs would be deployed to ensure they didn't enjoy themselves too much.
And it would seem that just appointed NSW police minister Paul Toole considers deploying harmful, and sometimes lethal, drug dogs, accompanied by trauma-provoking strip searches, to festivals is the perfect way to inaugurate his new role.
An arresting bonanza
Saturation policing and drug dogs were at the ready as revellers descended upon Sydney's Domain last Saturday to see in the new year. And while 85 people were found holding illicit drugs, going on past figures it can be assumed the dogs indicated at least double that number of attendees.
As part of Sniff Off, a joint venture with the NSW Young Greens, MLC David Shoebridge has been obtaining statistics for a decade, which outline the number of searches NSW police perform following a drug dog indication. And these figures reveal the poor success rate of searches.
"What they've shown consistently is between two-thirds and three-quarters of searches, following a drug dog indication, find no drugs. Indeed, they find nothing," Shoebridge told Sydney Criminal Lawyers in 2019.
"The hit rate is slightly higher at music festivals. They get it wrong about 50 percent of the time at festivals."
For youths attending NSW music festivals these days, sniffer dogs are a given. Yet, prior to 2001, the NSW police drug detection dog unit didn't exist. And the issues surrounding the validity of the unwarranted use of drug dogs in public places have been well understood since the early days.
The 2006 NSW Ombudsman report determined that searches following a positive drug dog indication only resulted in illicit substances being found 26 percent of the time, and most of the successful searches turned up "very small amounts of cannabis".
Promoting harms
The NSWPF outlined that the Field Day operation "targeted anti-social behaviour, alcohol-related crime, and illegal drug use" so as to ensure "the safety of festivalgoers". But harm reduction advocates and family members who've lost loved ones argue this is far from the truth.
Unharm chief executive Will Tregoning has long pointed to the link between the presence of police at events and an increased risk of overdose, as festivalgoers can often panic on spotting a dog and take all of their drugs at once, or else simply take them all prior to arrival in order to avoid detection.
The drug law reform advocate has cited the example of James Munro at the 2013 Defqon1 festival, who's said to have panicked on seeing a drug detection dog and swallowed multiple pills at once, which later saw him overdose and die.
These assertions were backed by the NSW Coroner's inquiry into music festival deaths, which found that "given the evidence of a link between the use of drug dogs and more harmful means of consumption", their practice of using them at events should be abolished. 
Evidence-based harm reduction
For those who have the "well, what are we going to do about dangerous drugs" reaction to the suggestion that dogs be removed from festival settings, rest assured, there is another way to deal with the potential toxicity of unregulated black market drugs at events and that is pill testing.
The testing of drugs sees medical staff use laboratory equipment to test contents, and the owners are then made aware of any potential harms. The process reduces consumption, as those with dodgy drugs usually bin them, and authorities can then warn others about harmful batches.
This proven harm reduction method has been operating in the Netherlands since 1992. Many other European nations soon followed suit. NZ legalised pill testing nationwide last month. Whilst the majority of NSW MPs continue to bury their heads in the sand to the detriment of others.
Five young people died in drug-related circumstances at NSW festivals over the 2018-19 summer. Following calls to roll out pill testing in response, former NSW premier Gladys Berejiklian repeatedly refused to even consider the proposal, and Perrottet has done the same since taking over.
Prior to the pandemic, two ACT government-sanctioned pill testing trials were carried out in Canberra by Pill Testing Australia. And both resulted in potentially lethal substances located and drugs then being thrown into the bins provided. The ACT is now looking at a fixed site testing trial.
Just a heads up, minister
Despite the mounting evidence against and opposition to the type of operation seen at Field Day 2022, NSW police has consistently been ramping up its operations at events, like festivals, for the last decade, regardless of the toll it's taking.
The enhancement of these measures has seen huge numbers of officers deployed to events, the implementation of widespread strip searches – that don't often turn up drugs but do result in sexual assault type trauma – and the force has even developed a "user-pays" system to cash in at events.
For his part, new police minister Toole declared on Monday that he wouldn't be allowing pill testing in this state. He cited a recent study, which found the majority of MDMA circulating in NSW doesn't contain toxic adulterants and added that this doesn't mean they are safe.
And from that position, the new minister went on to assert that pill testing would provide a "false sense of confidence". Yet, regrettably, Toole is missing the point here.
While pill testing can determine whether toxic substances are present in a sample, it can also ascertain whether the dose of pure MDMA might be too high, as both these examples can cause harm to a person who uses said drugs.
Pill testing permits people who already have drugs on them, regardless of their illegality, and are about to take them, to check in to see if they may potentially cause them harm.
So, minister, rather than providing "a false sense of confidence", this harm reduction method promotes the opposite response in order to save lives.
Main photo credit: Unharm employee Bruce Knobloch
Receive all of our articles weekly