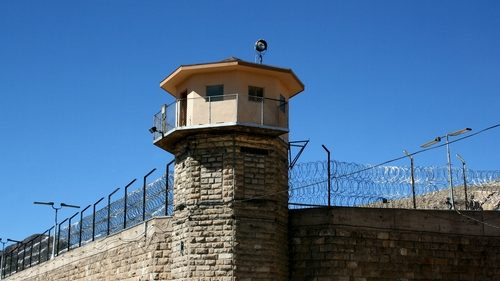 The NSW government passed new laws last week making it a crime for prison guards to have sex with inmates. The move follows revelations mid-year regarding a number of female corrections officers who'd allegedly been engaging in sexual relations with prisoners.
The Crimes (Administration of Sentences) Legislation Amendment Bill 2018 was passed by parliament on 13 November. It creates a new misconduct offence which applies to correctional employees who engage in either sexual conduct or an intimate relationship with inmates or persons subject to a community based order.
This crime can see both public and private correctional officers sent to prison for up to two years and/or receive a fine of up to $2,200. Prior to the passing of the bill, such relationships were against prison codes but weren't illegal, let alone a crime.
A blind eye
NSW corrections minister David Elliott promised to introduce the new penalties back in July, after 2GB's Ray Hadley confronted him with a number of recent prison sex incidents. At the time, the minister claimed he was shocked by the allegations, which he'd previously been in the dark about.
Following the passing of the laws, Mr Elliott told 2GB there appears to have been "a blind eye drawn to this sort of behaviour" over recent decades. He further stated that both current and past corrections ministers and corrective services commissioners were to blame for the situation.
A case in point
The first guard-inmate relationship story that "horrified" the corrections minister was the case of prison guard Amy Connors who allegedly carried out an 18 month sexual relationship with convicted police officer killer Sione Penisini at the Mid North Coast Correctional Centre in Kempsey.
A 14 year veteran of Correctives Services NSW, Ms Connors was using a key to gain access to Penisini's cell at night. The senior prison guard was subsequently suspended following an incident at the prison that exposed the relationship.
Mr Penisini severely assaulted another inmate after Ms Connors had allegedly passed on information that enabled him to locate the prisoner. Penisini is currently serving a 36 year sentence due to his part in the 2002 killing of Constable Glenn McEnallay.
As a result of a police investigation, Ms Connors was arrested and charged with misconduct in public office in August. And following the assault, Mr Penisini was transferred to Goulburn Supermax prison, where the state's most dangerous inmates are detained.
Ongoing prison liaisons
In July, Mr Hadley revealed numerous other cases of guard-inmate affairs that he'd been recently informed about. This included three other relationships that came to light this year at Lithgow, Long Bay and Brush Farm correctional centres, involving female staff members and detainees.
The misconduct issues Hadley exposed date back to a 2007 incident at Tamworth prison. Another case involved a prison officer admitting she'd fallen in love with an inmate at Silverwater prison in 2010. And in that same facility in 2016, a guard was caught in the act by two of her colleagues.
In response to the long list of "inappropriate relationships", minister Elliott established Taskforce Themis to investigate and report on the allegations that date back to 2007. The investigation is being led by retired NSW assistant police commissioner Mark Murdoch.
The new offence
The amendment bill that passed last week inserts new section 236Q into the Crimes (Administration of Sentences) Act 1999, which makes it a crime for a correctional officer to enter into sexual conduct or an intimate relationship with an inmate or the subject of a community-based order.
The relationship is an offence if it "causes a risk or potential risk to the safety or security of a correctional centre or correctional complex or to good order and discipline within a correctional centre or correctional complex".
A community-based order includes a parole order, a community correction order, an intensive correction order, a conditional release order, a reintegration home detention order, or a suspended sentence.
The new law stipulates that the correctional officer is not guilty of an offence if they enter into such a relationship with an inmate or an individual subject to a community-based order if they were unaware that the other person was a prisoner or the subject of an order.
The fine print
In his second reading speech on the legislation, minister Elliott stated that only a small minority of staff engage in such behaviour, and the vast majority were "appalled" when they heard about the recent allegations.
The minister also made clear that any sexual conduct between a guard and an inmate will always result in a safety, security or good order risk, or potential risk, within a correctional facility.
And on what constitutes an intimate relationship, Mr Elliott said it covers "relationships between two or more persons, involving sexual conduct or other physical expressions of affection or the exchange of written or other communications of a sexual or intimate nature".
Just a reminder
At a Budget Estimates hearing in September, Corrective Services NSW commissioner Peter Severin stated that his organisation was currently rolling out "refresher and reminder training" for prison staff just to make sure they're aware that they shouldn't be sleeping with inmates whilst on the job.
Mr Severin said the course was not implying that any of the staff were partaking in inappropriate behaviour, but it rather had a focus on reminding them of the right thing to do and also what they should do if they become aware that any other staff members are being tempted.
Wires crossed
The Corrective Services commissioner further stated during the hearing that over the years he'd been aware of various allegations regarding relationships between prison officers and inmates. And at times, he'd reported serious allegations to the minister.
Responding to questioning about whether he'd been aware of these relationships in the past, Mr Elliott said at the hearing that he'd been naïve enough to think they didn't occur. And on whether he'd actually received the reports from the commissioner in the past, he said he'd respond in notice.
And in response to questions on notice published later that month, the minister's response was "all briefings on issues associated with staff inappropriate relationships and associations have been referred to Taskforce Themis".
Receive all of our articles weekly