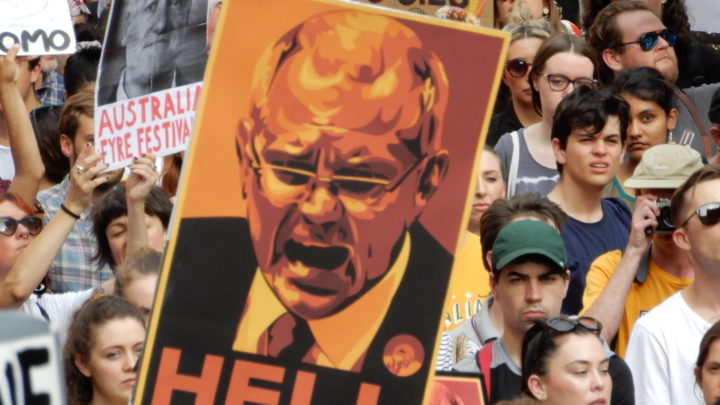 For those concerned that COVID-19 has somehow brought the Australian fossil fuel industry to a halt, you can rest assured it hasn't. Indeed, the expansion of mining has simply continued in a "business as usual" manner.
Construction at Adani's Carmichael coal mine is forging ahead. Last week, the Indian mining giant succeeded in having Wangan and Jagalingou men Adrian Burragubba and Coedy McAvoy permanently banned from their own land, which makes up some of the mine site.
While Australian construction company BMD has been shipping in people from all over Queensland to work on the Adani mine's accompanying rail line. And during their 10 day shifts, these workers live in close proximity to each other, before returning to households in towns across the state.
Meanwhile, not to be left behind by the pandemic, NSW planning minister Rob Stokes has pushed for the public hearings for the proposed Narrabri gas project to go ahead online in a reduced capacity during the lockdown.
And there was also the early COVID fossil fuel development, which saw Victoria lift its ban on onshore gas exploration and the establishment of new projects. This followed the Victorian Gas Program assuring that the fuel could be extracted from reserves without harming the environment.
That other fossil fuel
In relation to Stokes' by cover of COVID movements, NSW Greens MLC Abigail Boyd explained that following the imposition of the lockdown there was "renewed lobbying from the fossil fuel industry to push forward on projects in the name of propelling the economy" post-pandemic.
Australian energy company Santos is behind the proposed Narrabri gas project, which entails drilling 850 coal seam gas wells over the Great Artesian Basin recharge area. As Boyd makes clear "the project will have a significant impact on the local environment and local farmland".
In mid-February, as the last bushfires from the months-long crisis were still ablaze, the Narrabri gas project was given renewed emphasis as PM Scott Morrison cut a deal with NSW premier Gladys Berejiklian, which involved a $960 million loan in exchange for an extra 70 petajoules of gas.
Ms Boyd further outlined that the planning minister's decision to continue with the public hearings undermines the usual ability of the community to mobilise in relation to the significant northwest NSW project by way of consultations, petitioning and letterbox drops.
"So, for Rob Stokes to continue with a consolation process that is the same as when we didn't have all those restrictions is effectively denying the community their democratic right to have a say and participate," the Greens climate spokesperson told Sydney Criminal Lawyers.
In the industry pocket
According to Galilee Blockade spokesperson Ben Pennings, it's important for government to continue its support of fossil fuel projects, as the industry is a huge political donor. And that's why both major parties back the Adani coal mine despite 65 percent of Australians opposing it.
"Adani and their mine contractors, along with BMD and other rail contractors, are all continuing to work," Mr Pennings explained. "They're clearing land. They're getting ready for dewatering. They're building workers' camps. And they're constructing the rail line."
At present the blockade is challenging BMD's owners to fly into the Galilee Basin during the next shift changeover, so they can join the new crew on the next 10 day work shift, just to prove that those in charge really do believe that working under such conditions doesn't pose a COVID-19 risk.
Pennings has been demonstrating against the Adani coal mine for quite a number of years. Part of the anti-Adani campaign's success has been secondary boycotts, which involve activists putting pressure on one company, so that it stops its involvement with another.
In late October, following the early onset of the bushfires, but prior to their dramatic escalation, Scott Morrison appeared at a Queensland Resources Council luncheon and told the crowd that his government was moving to draft laws that would make secondary boycotts illegal.
"The government threatening to outlaw some of our tactics proves they're effective," Pennings continued. "But, it's also a real attack on democracy." And he added that the Coalition is all about the free market and free speech until it "affects its political supporters and donors".
Lifting that ban
Just as the initial COVID restrictions on outdoor gatherings over 500 people and indoor gatherings of over 100 were being set in place, it was announced that the Victorian government had lifted its state's moratorium on new onshore gas projects.
Many went on to call premier Daniel Andrews a traitor for having lifted the ban whilst the population was distracted by the potentially fatal virus. And one such commentator was Extinction Rebellion Australia spokesperson Jane Morton. However, she's since changed her tune.
"Due to intense pressure from the federal government, the Andrews government had no choice but to lift the ban in order to get funding for renewable energy," she explained. "The timing had nothing to do with the virus, it was something that happened just before it."
Ms Morton's version of events actually links the lifting of the Victorian ban to a general push the Morrison government was giving states and territories at the time in relation to expanding fossil fuel projects. In NSW, this translated as the Narrabri gas project deal.
Wide open for change
Ms Boyd explained that the fossil fuel moves during the lockdown simply underscore the fact that public opinion has swayed so far against the carbon emitting industry that the only way to establish new projects involving it is to do so under cover of something like the COVID-19 crisis.
"The social licence for this continued extraction just isn't there anymore," Boyd said. "The more the Berejiklian government can do without public scrutiny and a fuss being made by the opposition", the more it can get away with.
But, as for Ms Morton, she sees a silver lining in the COVID-19 lockdown. The climate activist remarked that what the current situation has shown is that when the public are actually aware that there is a need for emergency measures, it can act swiftly and decisively.
"What climate emergency action would look like has been nebulous. People have either not been able to imagine it or believe that it's really possible," Morton concluded. "But, now they're seeing it. And it's quite amazing."
Receive all of our articles weekly
Author
Paul Gregoire
Paul Gregoire is a Sydney-based journalist and writer. He has a focus on human rights issues, encroachments on civil liberties, drug law reform, gender diversity and First Nations rights. Prior to Sydney Criminal Lawyers®, he wrote for VICE and was the news editor at Sydney's City Hub.