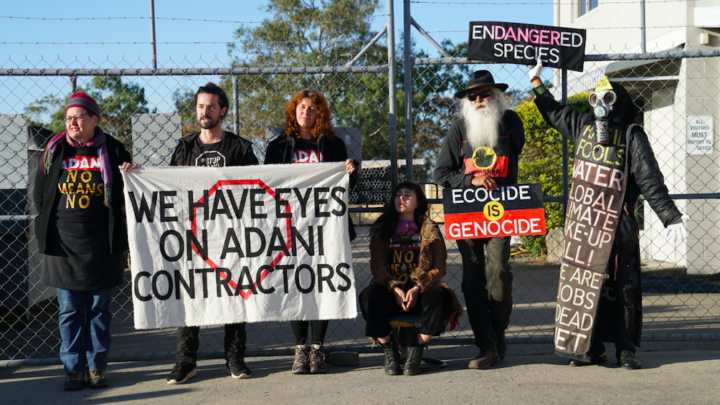 Frontline Action on Coal (FLAC) has issued a red alert calling on activists from across Australia to join its Blockade Adani campaign at the Binbee camp on Birri country close to the site of the Indian mining giant's proposed Carmichael coalmine.
Preliminary work at the site has commenced, with Adani clearing land. This follows both the federal and state government rushing through the final approvals on the project, as well as the Palaszczuk government recently extinguishing native title over Wangan and Jagalingou land.
It was revealed last week that construction company BMD has become Adani's largest contractor, with a deal to build the rail line connecting the proposed Galilee Basin mine site with the Abbot Point coal terminal on the Queensland coast not far from the town of Bowen.
So, on 13 September, fifteen FLAC activists went and disrupted BMD's work site on the Haughton River Floodplain upgrade of the Bruce Highway. And it's for support on these sorts of actions that FLAC has issued its red alert call out.
Fool's gold
Over recent months, there's been a growing awareness amongst the population that the decades-old issue of climate change is no longer some distant threat, as it's now an immediate crisis requiring system change. And it's been a number of UN reports that have spurred on this understanding.
Released in May, the IPBES Global Assessment Report on Biodiversity and Ecosystem Services outlines that right now, nature is declining at rates unprecedented in human history. And the deterioration of ecosystems will have profound consequences for humans.
Key report findings include that a third of the Earth's land and 75 percent of its freshwater resources are now devoted to crop and livestock production, urban areas have doubled since 1992, and plastic pollution has increased tenfold since 1980.
And it's against this backdrop that government in this country has seen fit to open up one of the largest coal reserves on the globe to the Adani mine – and five or six other coalmines set to follow suit – which will only serve to greatly compound the climate emergency.
Stop Adani
Despite government greenlighting every approval that comes its way, as well as refusing to uphold the rights of the traditional custodians of the land, the Carmichael coalmine can still be prevented from going ahead. Indeed, Adani can be stopped.
FLAC spokesperson Andrea Valenzuela pointed to the Jabiluka uranium mine on the lands of the Mirarr people in NT, as an example of a project, which in 1998, had not only been signed off on, but construction had begun, and a mass nonviolent direct action led to it being brought to a halt.
Sydney Criminal Lawyers spoke to Ms Valenzuela about the mobilisations Frontline Action on Coal has been involved in of late, the rising environmental awareness in this country and the impact that mining in the Galilee Basin will have on the climate emergency as a whole.
Firstly, last week, it came to light that Australian construction company BMD has the contract to build the rail line connecting the Carmichael coalmine to coast. In response, a group of FLAC activists disrupted a BMD upgrade project on the Bruce Highway.
How did this action go? And what other actions has FLAC been involved with over recent weeks?
The BMD action was a particularly important contractor action. It was in response to leaked information that indicated that the company was actually expecting backlash for their involvement with Adani, as they should.
Much like with GHD, they're a company that claim environmental conscientiousness, so it's particularly important that BMD – as well as GHD – are held to account.
They do have a quote on their website boasting that their goal for each project is to leave a minimum impact on the environment. But, their involvement with Adani has obviously discredited their claims of sustainable practice.
The action was definitely successful in disrupting work and also for conveying the message. I have a quote from the press release, "BMD's slogan is 'We see things differently'. We urge them to look at our planet and see more than just dollar signs. If they can't do that, actions like this will continue, because life on this planet is too precious to be sold to the highest bidder".
I really like that quote, because I see that as a message to all contractors. Recently, FLAC has been focused on contractor actions.
We've been doing a few around Iplex and Vinidex in Townsville. Actually, yesterday, both Iplex and Vinidex were targeted. And recently, AC Whalan in Mackay was as well.
In terms of other actions, four people recently disrupted work at Abbot Point coal terminal – by infiltrating and locking themselves to machinery – to convey the message that we need to stand against climate destroying corporate greed.
And FLAC shared the message on behalf of those activists by staging a tug of war outside George Christensen's office in Mackay last week. It was to express that the corporations – and the stories they portray through Murdoch media – don't reflect the interests and the needs of our communities.
FLAC has had a blockade established long-term close to the Adani mine site. Andrea, can you describe what the setup is like? And the impact it's having?
The Adani Blockade central Queensland base is at Binbee on Birri country. It's situated between the proposed Carmichael mine site and the Abbot Point coal terminal.
Notably, Binbee means good in the language of the Birri people. And this is the site where the frontline activists sustain the campaign, as well as our diverse, intelligent, self-motivated community. It's very much a community, as well as a campaign. We grow our food, which we cook and eat together and compost and clean up together.
We are very much trying to live a sustainable lifestyle here and teach skills around that as part of a model for a regenerative culture and a way of spreading a more environmentally sustainable way of being for the future.
This campaign is not just about stopping Adani. We see a bigger picture with that, which involves allowing people to settle into living as a part of a sustainable community, so they can share those skills and ideals with other people when they return home.
So, you're after more volunteers?
Absolutely. Frontline Action on Coal has released a red alert about a month and a half ago. And we are still very much in red alert mode.
We are always after more hands, whether that be for people who are willing to be out on the frontline or be involved in helping more on the community side. Every role is vital.
I'll just go into the main objectives that we are trying to achieve from this Binbee site:
– To provide a safe space for learning
– Empowering individuals with the skills and the confidence to take part in nonviolent direct action
– Sharing the facts behind why the Galilee is so crucial in addressing the wider climate emergency
– Working to normalise direct action
– Emphasising the necessity for frontline activism in general and particularly with this campaign at this crucial stage
We do provide relevant training here as well. So, we provide training, legal briefings and consent and consensus workshops. We also do skill sharing at the Binbee site as well, including permaculture and more community-based skills.
This is the base from which we plan nonviolent direct actions to stop works, or whether it be for stop works, raising awareness or building our movement.
Of course, involvement in direct action at Binbee is voluntary and consensual. Coming to Binbee does not mean you have to be involved in nonviolent direct action. And it doesn't mean that you have to put yourself in an arrestable position.
We're also about empowering people to take action in their local areas. Our community engagement team that we have here at Binbee often travel to support anti-Adani locals and affinity groups: AYCC and Stop Adani.
We support them in reframing the narrative around how best to protect the reef, local businesses and communities. And we really try to challenge that jobs and growth narrative.
FLAC has been actively opposing the Adani mine for a number of years. Meanwhile, over the last six months, there's been an increase in awareness amongst the general population regarding the climate crisis and the need to take action.
Is FLAC seeing evidence of this rise in opposition to human activities that are causing the crisis?
I'd say certainly. FLAC's Blockade Adani campaign has been going since 2017. I definitely agree that in the past six months there's been a change in attitude towards environmental activism.
Since the UN's release of their first biodiversity report, which was in May, climate science has become a more mainstream topic of discussion. And there's greater urgency for action in general. The IPCC report is frequently referenced in online media.
We've seen newspapers talking about climate change. And support is also growing exponentially for activist movements like School Strike for Climate, Extinction Rebellion, as well as for Frontline Action on Coal.
I'd also say, we've seen a change in the last three months in the way that media portrays our actions. The news stories covering FLAC are definitely produced with much more objectivity. And there's potentially even an air of implicit support.
It also seems that our perspective on Adani's jobs and growth narrative is finally being listened to. Obviously, they say that the project will generate lots of jobs, but in the fact of the climate crisis, work that openly rejects warnings about the effects of more coalmines is not going to be constructive.
Once it compromises existing industries, undermining jobs in agriculture and work with the Great Barrier Reef – which are such important industries in this area – that's not true development. It's not sustainable.
Adani has also boasted that the Carmichael mine is to be the most automated mines in existence. So, they're purposefully and systematically reducing employment opportunities and then claiming to be setting the community up with necessary jobs.
It's a pretty thin veil. And it's very encouraging to see that the media is slowly allowing us to expose that.
The Carmichael mine proposal has had to be scaled-back from the original due to a lack of backing from financial institutions. However, if the Adani mine does get off the ground, there's another five or six mines set to follow suit.
In your understanding, what sort of an environmental impact will the scaled-back Adani mine have? And further what would be the impact of seven new coalmines in the Galilee Basin?
Preliminary work has started. At least, 180 hectares of native habitat on Wangan and Jagalingou country has already been cleared, including the endangered Black Throated Finch territory, which was quite topical.
Mining the Galilee Basin will permanently destroy native habitat. It will damage Queensland's water table. It will contribute to irreversible climate change.
Construction of the mine infrastructure would destroy the habitat of endangered species. Coal transport would spread toxic residue through the railway corridor and the Great Barrier Reef World Heritage Area.
Increased boat traffic is a problem as well, as it would further pollute the water, worsening the corals' struggle for survival. And of course, the Great Barrier Reef is also struggling because of coral bleaching.
Barrier Reef health is already a major risk to the jobs and the industry around reef tourism and fisheries. There are plenty of jobs at risk.
The scaled-down Carmichael mine alone would use 270 billion litres of underground water, putting the aquifers of the Great Artesian Basin at major risk.
Up to 2.3 billion tonnes of coal could be unearthed, and that produces about 4.7 billion tonnes of greenhouse emissions. The numbers are a bit difficult to engage with.
But, essentially, what that looks like, is that it places the Galilee Basin within the top ten emitting countries in the world, as in the Galilee Basin alone would actually be producing as many emissions as a whole country. And not just any country, but one of the top ten polluters on the planet.
It's pretty dire.
The Morrison government jammed through the last federal mine approval on groundwater without a proper sign off from the CSIRO right before the May election.
Following the return to power of the Liberal Nationals, Queensland Labor then rushed through the last state level approvals for the mine.
Considering the widespread community opposition to the Adani mine, not to mention the growing awareness of the climate and ecological crisis the Earth is facing, what do you think about government actions in relation to the mine?
It's clear that our state and federal governments are not interested in protecting the interests or futures of Australians. Their interests truly lie with corporate relationships and financial greed.
We've tried other avenues. We've tried signing petitions. We've tried lobbying politicians. But, our so-called democratic system is failing us. Our voices aren't being heard. In fact, they're actively being oppressed.
For example, Adani is in court over illegal works and failure to disclose these illegal works. They're facing court again this Friday. But, despite breaking the law, Adani will still be receiving free access to water, as well as subsidies for their climate wrecking project.
But, when peaceful protesters break the law – with what we would call a moral obligation – they're subjected to hefty fines and increasingly unreasonable bail conditions.
We are labelled green collar criminals by our government. And most recently, targeted with new laws to illegalise lock-on devices and increase charges for trespass.
The French journalist Hugo Clément was with us at a recent action at the Abbot Point coal terminal. And he commented after filming an action of ours that he would not have expected such an oppressive police presence in a democratic country.
Clément said in reference to his own arrest and bail conditions that when you are told not to report on Adani's project, and then you are banned from entering their property or any associated sites, you have to wonder what is happening on those sites.
As the government does their best to sweep us under the rug, it is in fact true that support for our movement is growing, as compared to them being successful in stifling us.
People are seeing that politicians can't be trusted. They can't be trusted with our environment and our future. And people are seeing that and coming to understand why we're putting our bodies on the line.
Civil disobedience is the last line of defence for the Galilee Basin and for global climate safety. The more that government bodies or members put their foot in it, the more the people are starting to see our point of view – that we can't trust anyone else and we have to put our own bodies on the line.
The Palaszczuk government recently extinguished native title over 1,385 hectares of Wangan and Jagalingou land and granted Adani freehold title to it.
With work having commenced and all the final approvals in the bag, how confident is FLAC that the Carmichael mine can still be stopped? Are there examples of other projects like this that have been halted at such a late stage?
Certainly. But, first, I'll say that the extinguishment of native title is disgusting, as was the bankruptcy of Adrian Burragubba. The disrespect shown to First Nations people in this process shows that colonisation is still happening.
FLAC stands in solidarity with First Nations people. The Wangan and Jagalingou Family Council has stated that they will continue to fight. And we will continue to fight along with them."
Based on Australia's environmental campaign history, approvals and works don't mean game over for this campaign at all. I'll give you a couple of examples. These are just a few. But, there are plenty of examples of projects being stopped after works have begun.
In the late 90s, the Jabiluka uranium mine project on Mirarr country in the Northern Territory was halted by the developer Rio Tinto. At that point, the surface infrastructure had already been developed.
In 2016, drilling had already begun when AGL abandoned their coal seam gas project in Gloucester in NSW on Worimi country. And AGL actually ceased gas exploration altogether.
And as recently as 2017, the Perth Roe Highway extension through the Beeliar Wetlands on Noongar country was stopped by the WA Labor government, months after clearing had begun.
And lastly, Andrea, what's next for FLAC in regard to the Adani mine? What sort of actions do you plan to focus on in order to bring about a halt to it?
FLAC will continue to support and assist with the traditional owners' fight to protect country, however and whenever they see fit to act. I want to reiterate our commitment to solidarity.
FLAC will certainly also continue to disrupt Adani's work and to press contractors. We do have a major focus around potential contractors at the moment. Fifty eight contractors so far have publicly announced that they want nothing to do with Adani's projects. And we will continue to stop that.
We won't be stopping, because no contractors, no mine.
But, just to reiterate as well, we do have a red alert running. And to build momentum at this crucial stage in the campaign, we need as many people as possible to join us here in central Queensland for the Blockade Adani campaign.
All activists new and experienced can make their way out to Binbee.
Receive all of our articles weekly