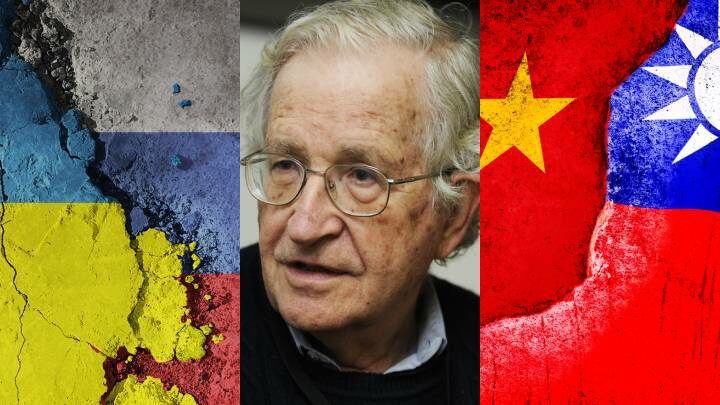 Esteemed political commentator MIT Professor Noam Chomsky has long warned that the two greatest existential threats the globe is facing are climate change and nuclear war. Although for many, the latter used to seem like a throwback fear to the 1980s.
But recent months have changed this. Since Putin began his invasion of Ukraine on 24 February, he's made veiled threats about using nuclear weapons on "anyone who would consider interfering", his nuclear arsenal has been placed on high alert, and his troops even attacked a large nuclear facility.
Nuclear weaponry commenced being more of a concern in this country last September, after PM Scott Morrison dropped it on the nation that we'd entered into the China-focused AUKUS pact, with the US and the UK. And key to this agreement is Australia acquiring nuclear-powered submarines.
Beijing warned in response that it "will certainly punish" Australia "with no mercy" if we continue to provoke it. While China said last week that our defence minister Peter Dutton ought to put a stop to his war rhetoric around Taiwan, asserting that he's distorting the situation.
Further, Russia and China entered into a "no limits" alliance in February, citing AUKUS as a key reason.
So, we're now seeing clearly defined opposing sides on a scale not seen since the 1940s. And as Russia pushes further west towards the Polish border, concerns are being raised that Putin wants to escalate the conflict even further.
Exit strategies
"We can debate what Putin has in mind," Chomsky told Sydney Criminal Lawyers. "But whatever the conclusion, the crucial consideration remains: We should be focusing on the opportunities to end this tragedy, which still exist."
"There is a gap between the terms put forth by Putin and Zelensky" the professor continued, in relation to options both presidents have presented to resolve the crisis. "But the gap perhaps can be narrowed," he suggested. "The only way to find out is to try."
Putin has outlined what he conceives as the way out of the Russia-Ukraine conflict during an early March phone call with French president Emmanuel Macron, in which he called for "the demilitarisation and neutral status of Ukraine".
While Ukrainian president Volodymyr Zelenskyy said last week that he'd "cooled down" on the idea of NATO for some time after he understood the alliance wasn't interested in his nation joining. And he's ready to enter into dialogue with Moscow over the contested territories of Crimea and Donbas.
According to Chomsky, "the US refuses" to consider these solutions, "and the West follows its directives, with rare exceptions".
"The rest of the world sees the whole affair quite differently, as revealed with considerable clarity by the map of states that have imposed sanctions," he added.
Beijing's globalisation
Moscow's invasion differs from some of Washington's more recent assaults on nations in the Middle East, as Putin considers Ukraine part of his country. And concerns have been raised that Russia's actions could embolden other nations to take similar steps in regions they assert a prior claim to.
Chief amongst them is China. Beijing has only just entered into its "no limits" pact with Moscow, and critics in the west have asserted that it's claims over Taiwan might be a reason as to why the world's second largest economy has refused to criticise Russia's actions in Ukraine.
"Putin may consider Ukraine part of Russia, but his actual proposals call for its neutralisation, not annexation," Chomsky made clear. "China's position so far is not very different from that of the Global South quite generally: keep a distance."
The professor said he suspects that Chinese president Xi Jinping is satisfied to see the position Russia is being pushed into via western sanctions as it will be "driven to dependence on China, in an 'alliance' in which Russia provides raw materials and is subordinate."
"It would be in China's interest now not to make any aggressive moves concerning Taiwan," he posits, "and to continue with its successful policies of integrating large parts of the world into the China-based economic system it's constructing, now reaching to Argentina, possibly soon to Turkey."
Soon after taking power in late 2012, Xi launched his Belt and Road Initiative, which is a modern-day Silk Road trade route that would link China initially via land but also by sea to an economic belt stretching right across Europe and Southeast Asia, as well as encompassing most of Africa.
Last month saw Argentina sign up to the initiative, following other South American countries, such as Bolivia, Chile and Venezuela. And Beijing's ties are growing stronger with Ankara, as Turkey becomes the BRI's "Middle Corridor", despite obvious contentions over China's oppression of the Uyghurs.
The coming war with China
Xi's rhetoric around reunification with Taiwan has been rising over the last few years. Beijing continues to consider the island a breakaway province, since it split from the mainland in 1949, as Kuomintang forces retreated to the territory following their defeat to the Chinese Communist Party.
But the threat of Beijing invading Taiwan has also been a key reason for Joe Biden's continual suggestions that war with China is imminent. Indeed, the US president's constant commentary on Russia's potential to invade Ukraine appeared at times to be more of a rallying cry.
This further begs the point that Putin did have legitimate security concerns about NATO's drift towards Russia's borders ever since the end of the Cold War, when, instead of dispersing the Washington-dominated alliance, the US rolled it through former Communist Bloc countries.
Following the leader
A major shift that has occurred in the current geopolitical climate is that our nation has become a frontline aggressor in the mounting war cries against China, with defence minister Dutton saying last November that Australia would have to join the US in defending Taiwan against China.
And just weeks later, at the National Press Club, he went on to list a series of figures displaying how Beijing is beefing up its defence forces, and then he added that he and the PM consider "the times in which we live have echoes of the 1930s", meaning they're leading into a world war.
"Why provoke Chinese action by heroic declarations?" Chomsky asked in relation to Dutton's comments. "Again, we should be focused on relieving tensions, not on what to do if they lead to the worst."
"If a global war develops, we're done.  Same conclusion: focus on relieving tensions," the leading US political dissident ended.
Receive all of our articles weekly