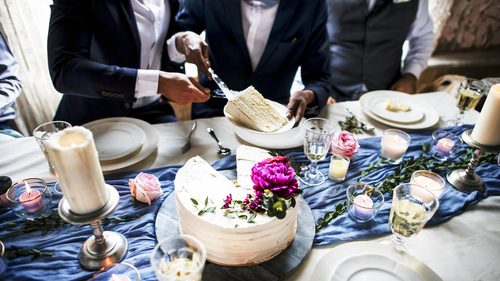 Opponents of same-sex marriage are pushing for exemptions from discrimination laws which would require businesses to carry out services for gay weddings.
The Coalition for Marriage claims that service providers such as bakers, caterers, florists and photographers are concerned about being forced to compromise their morals by having to provide services to same-sex couples on their special day.
No Campaign
Coalition for Marriage spokesperson, Monica Doumit, said the group "believes that no one should be coerced to use their creative talents to endorse a message with which they disagree".
She proceeded to equate discrimination based upon a person's sexual orientation to the group's alleged inability to publicly post messages about its campaign: "For example, we support the right of the many advertising agencies and meeting venues who have denied us service during this campaign to do so" she said.
Ms Doumit refused to comment when asked whether businesses should similarly be allowed to refuse servicing people based upon their race, ethnicity or religious views.
The Australian Christian Lobby has also released a statement in similar terms to the Coalition for Marriage.
Marriage Equality Campaign
Marriage equality advocates have expressed concerns that permitting such discrimination is a 'slippery slope', potentially opening the floodgates for other forms of prejudice.
Equality Campaign executive director, Tiernan Brady, expressed the view that the 'No' campaign is engaged in "a blatant attempt to unravel existing anti-discrimination laws which serve everyone in Australia well, not just LGBTI people".
Conservative Uncertainty
Australian Christian Lobby executive director, Lyle Shelton, was dismissive of such views, stating "I don't think anyone is suggesting that there should be racial discrimination – I certainly wouldn't be".
He was unable to answer questions about the form of any suggested exemptions, stating they would simply be "allowing people to continue to believe the same thing about marriage."
By contrast, former Liberal senator Cory Bernardi suggested in September 2016 that businesses be allowed to discriminate against patrons "for any or no reason", including but not limited to the right to refuse gay weddings.
Shadow Attorney-General Mark Dreyfus questioned whether Bernardi's comments meant "he thinks pubs should be able to refuse the business of Indigenous Australians too?", thereby creating a form of apartheid right here in Australia.
Anti-Discrimination Law
The Sex Discrimination Act 1984 (Cth) currently prohibits refusing goods or services based on a person's sex or sexual orientation. The Act contains mechanisms whereby exemptions can be applied for and granted.
The Turnbull government has indicated it is open to passing amendments which would allow for religious objections to same-sex weddings.
The Labor party has publicly opposed such provisions. However, Labor recently endorsed a bill proposed by Liberal senator Dean Smith which would rule out any further religious freedoms beyond the ability of religious ministers, celebrants and organisations to refuse to conduct weddings.
The Greens, meanwhile, have proposed abolishing religious exemptions to commonwealth discrimination laws entirely.
The chief executive of Transgender Victoria, Sally Goldner has criticised the Australian Christian Lobby for their arrogance in calling for exemptions from Commonwealth law, questioning why they should have "special privileges" to the standards the rest of Australia lives by.
Effect of 'Yes' Vote
Prime Minister Malcolm Turnbull says that if a majority 'Yes' vote is returned in the recent survey, a bill will be introduced to bring same-sex laws into effect.
National director of Liberals and Nationals for Yes, Andrew Bragg, said the bill would be guided by three principles: "Firstly, existing discrimination in the Marriage Act should be eliminated; secondly, a strong protection for religious freedom should be provided; and thirdly, we should not reintroduce commercial discrimination in Australia."
"It would be self-defeating to repeal discrimination and replace it with discrimination," Mr Bragg remarked.
Receive all of our articles weekly