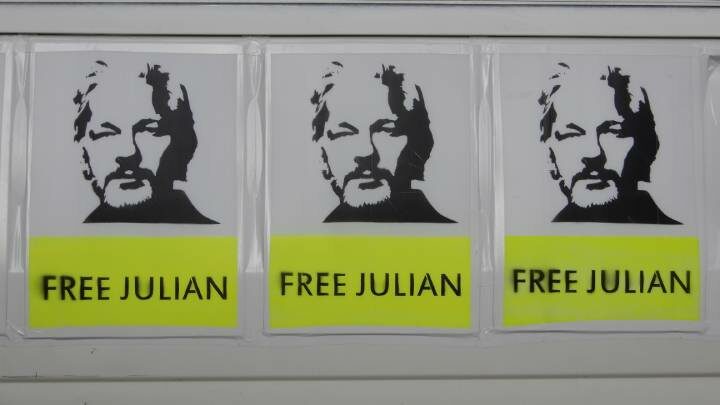 Lawyer acting for Washington in the appeal against the decision not to extradite Julian Assange to the US James Lewis this week provided the UK High Court with a written "package of assurances" relating to the Australian journalist's welfare if taken into his nation's custody.
The Biden administration assured that if extradited, the WikiLeaks founder wouldn't be held in extreme isolation in a supermax facility, he would receive necessary psychological treatment for his deteriorating mental health and he could be transferred to Australia to serve any sentence imposed.
Taking place over two days, the US appealed the 4 January 2021 decision of UK District Court Judge Vanessa Baraitser not to extradite the now 50-year-old publisher to the US, as she found his "risk of committing suicide, if an extradition order were to be made, to be substantial".
The US is attempting to prosecute Assange over matters relating to his publishing leaked US government documents in 2010 and 2011, which exposed inconvenient truths as to how its military was operating in breach of the rules of armed conflict in Afghanistan and Iraq.
However, the spying and hacking charges that have been laid against Assange don't match the acts of journalism he was actually involved in.
And as if the Townsville-born Australian can't help but be a beacon of truth, the ongoing show trial and public torturing of Assange have also laid bare the mockery of the US and UK legal systems, as well as our government's compliance with its closest allies' illegal behaviour.
Threatening press freedom
In an unprecedented move, the US reached out across international borders to arrest Assange by proxy in April 2019. The initial charge was one of conspiring to hack into US computer systems with Chelsea Manning, despite her having testified to leaking files without any assistance.
The UK dragged Assange out of London's Ecuadorian embassy in 2014, after he'd been granted asylum within it for seven years. Quito permitted this as it had been paid off with international aid. And the UK then locked him up in Belmarsh prison over a 2012 breach bail charge.
Under its June 2020 second superseding indictment, the US District Court has charged the multi-awarding-winning journalist with 17 counts of espionage and one of computer hacking, which together carry a maximum penalty of 175 years in prison.
Baraitser found that the US case against Assange actually holds. And while Washington was originally permitted to appeal her January ruling except for the mental health ground, a higher UK court later granted the US full range to challenge the psychiatric evidence as well.
UN special rapporteur on torture Nils Melzer has long condemned Assange's treatment in the UK – both his imprisonment and the increasingly drawn out legal process – as akin to torture, and he criticised Baraitser's ruling as effectively amounting to "criminalising national security journalism".
Undermining the rule of law
The decision on this week's High Court appeal may not be delivered until early next year. If it is successful, the case will then be remitted to a lower court for a new decision. And following that, a final appeal can be heard in the UK Supreme Court.
Amnesty International legal adviser Simon Crowther told the ABC that the US assurances provided this week aren't legally binding under international law. And one only has to be reminded of a number of other suspect matters regarding this case to resolve to take them with a grain of salt.
In September last year, it came to light that US intelligence had been spying on Assange in the Ecuadorian embassy since mid-2017, via cameras set up by Spanish security firm Undercover Global SL, and this surveillance included listening in to conversations with his lawyers.
And as the US sought to appeal the UK extradition decision in July this year, an Icelandic newspaper published revelations that key witness for the 2020 indictment, Sigurdur Thordarson, had falsified his version of events, which incriminated Assange, to avoid serving prison time in the US.
While Yahoo News last month reported, that in 2017, the Trump administration, under the guidance of then CIA director Mike Pompeo, considered kidnapping Assange from the embassy, as the journalist was in the midst of publishing the details of the spying agency's hacking manual Vault 7.
Based on interviews with 30 former US officials, the article recounted a range of kidnapping scenarios, outlined requests to UK authorities for help with such an operation, which were then turned down, and it even set out that Trump had raised the option of assassinating Assange.
Yet, despite all the anomalies and illegalities surrounding the plight of one of its citizens via legal measures being taken by its AUKUS partners, the Morrison government continues to sit on its hands and stay mum about the whole ordeal.
Holding to account
Timed to coincide with the US extradition appeal, the Belmarsh Tribunal was staged by the Progressive International late last week. The meeting of political commentators sought to hold up a mirror to the injustices that governments, like the US, the UK and Australia, are exposing Assange to.
The tribunal was modelled on the 1966 People's Tribunal held by philosophers Bertrand Russell and Jean Paul Sartre to officially hold the US government to account for its escalating war crimes in Vietnam, which were otherwise not being addressed on the international stage.
The current tribunal included writer Tariq Ali, former UK Labour Party leader Jeremy Corbyn, Assange's partner Stella Moris, NSA whistleblower Edward Snowden, former Australian Greens Senator Scott Ludlam and philosopher Srećko Horvat.
"Julian, far from being indicted, should actually be a hero. He's not the first. And if they think that punishing him in this vindictive and punitive way is going to change people's attitudes to coming out and telling the truth, they're wrong," said Ali, who was a member of the Russell-Sartre tribunal.
"Julian is unfortunate to be captured by this particular state and its different apparatuses in order to appease the United States of America," the esteemed public intellectual continued.
"He should never have been kept in prison for bail. He should not be in prison now awaiting a trial for extradition. He should be released. And I hope that acts, like the Belmarsh Tribunal, will help to bring that nearer."
Receive all of our articles weekly