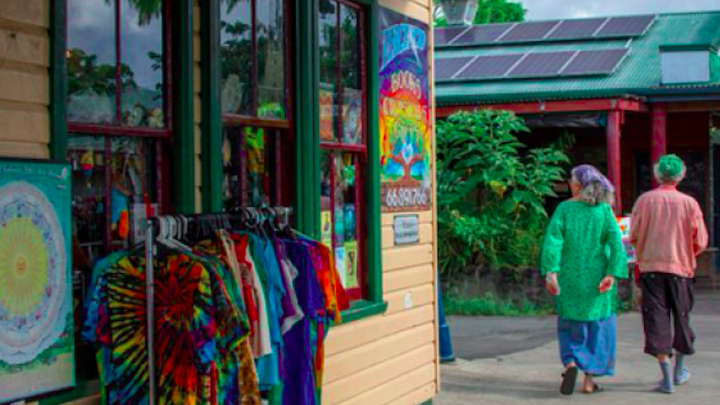 Jurisdictions around the world are legalising cannabis.
One in five US citizens now lives in a state where the recreational use of the plant is permitted. Uruguay changed its laws to allow marijuana use nationwide back in 2013. And Canada is set to legalise it by July next year.
The medicinal benefits of cannabis have been widely confirmed. In response to this, the Turnbull government passed legislation in February last year to allow the cultivation and distribution of medicinal cannabis.
However, hardly any of the patients that need the medicine can actually access it.
Paradise lost
Meanwhile, NSW authorities are continuing their cannabis crackdown.
NSW police raided one of the state's largest medicinal cannabis suppliers Newcastle's Ubuntu Wellness Clinic in December last year, while the home of medical marijuana advocate Dr Andrew Katelaris, was raided in May.
And then there's the plight of the Nimbin Lane Boys.
Rainbow Lane in Nimbin had long been where a group of young men were selling organic marijuana. Twenty nine of these men – known as the Lane Boys – were arrested in connection with a series of raids carried out by NSW police last year.
On July 27 this year, the Lane Boys appeared in Lismore Local Court for sentencing on charges of supply. To the disbelief of many in the courtroom, Magistrate Alexander Mijovich sentenced seven of the young men to prison time.
The Sydney-based magistrate described the offence as "one of the highest level offences under NSW law."
A community devastated
"They were advised by their legal teams if they pleaded guilty they'd get suspended sentences," Michael Balderstone, president of the Nimbin Hemp Embassy, said. "We were all a bit shocked."
And he questioned why a magistrate had to be sent up from Sydney.
The long-time cannabis activist explained that the magistrate failed to understand the culture of Nimbin, and the role that the Lane Boys played in the village. The men, aged mainly in their twenties, had kept "the dangerous drugs out of town," and stopped tourists being ripped off.
And the community of Nimbin has been feeling the void left by these men, since they were banned from the area under strict bail conditions last year. New dealers have arrived in town selling harder drugs, and this has resulted in three drug-related deaths over recent months.
The fate of the boys
The seven men who received gaol time have lodged an appeal against their sentences, and are currently out on bail.
While on Wednesday this week, another Lane Boy was also sentenced to prison. As for the other men, 13 received suspended sentences. Another got a good behaviour bond. One man got off. And six other Lane Boys have had their cases adjourned until August 31.
According to Balderstone, many Nimbin locals "are seriously angry and confused." He said the town is "being policed harder than anyone can ever remember." And despite news that medicinal cannabis is legal, patients arriving in Nimbin looking for medicine are "being hunted" by police.
Police resources
In August 2015, Richmond Local Area Command began an investigation into the sale of prohibited drugs in the Northern Rivers region. Dubbed Strike Force Cuppa, the operation resulted in a series of raids in mid-2016.
The main raids took place on June 28 last year, when NSW police executed six search warrants in Nimbin and Lismore. Officers seized five kilograms of cannabis. And eleven of the Lane Boys aged between 21 and 35 were arrested.
Six months prior to the raids, NSW police secretly set up a CCTV camera aimed at Rainbow Lane. It was heard in the court that police had to devote additional resources to the investigation as the three months' worth of footage could only be accessed in fifteen minute blocks.
Victorian Sex Party MLC Fiona Patten questioned why politicians were wasting police resources on something that "is hurting no one." She also said it was a disgrace the magistrate had placed the offence "in the same category as rape or murder."
Ms Patten made her remarks in a statement from the US state of Colorado, where cannabis use is legal. The regulated marijuana market in that state raised $US 198.5 million in tax revenue last year. And the money has been funnelled into schools and health programs.
Continuing drug war operations
It's not the first time that NSW police have taken aim at Nimbin. On September 11, 2014, 70 police officers descended upon the town raiding the Oasis Café and Perceptio Bookshop. Eight people were arrested and two kilograms of cannabis was seized.
In 2010, there was an increase in searches and raids in the local area. And in 2008, the notorious April Fool's Day raid took place, when the Sydney riot squad and several dozen local police raided the Hemp Embassy and museum.
As Mr Balderstone explained it, a lot of people don't like what Nimbin stands for. "We have been a scapegoat for mainstream society for decades now and some hardnosed people just don't get who we really are," he told Sydney Criminal Lawyers®. He added they still believe in "reefer madness."
Moving with the times
But many in the Australian community don't hold the viewpoint propagated by the 1936 American propaganda movie Reefer Madness, which suggests that smoking marijuana turns people into psychotics.
As Dr Alex Wodak, president of the Australian Drug Law Reform Foundation, has pointed out, an Essential Media poll of 1,000 Australians taken last year found that 55 percent of participants said they thought cannabis should be taxed and regulated like alcohol and tobacco.
"We need an amnesty for a start on all cannabis use," said Balderstone, who's also the president of the Australian Hemp party. He added that small moves like making cannabis medicine accessible for terminally ill patients are "not dealing with the issue at all."
"The results now coming from the American states with legal medical marijuana should be enough to shame all the authorities into action," Mr Bladerstone continued. He said in the jurisdictions where the plant is permitted suicide rates, opioid-related deaths and violent incidents are down.
And it does seem time for Australian authorities to follow the lead of the US. Especially, as they led the world into the war on drugs initially. India banned cannabis in 1985 due to pressure from US president Ronald Reagan, and now pot is legal in California, the state he used to govern.
And as for the Nimbin Lane Boys, let's hope they get a more "harm minimising" hearing at the appeals court.
Receive all of our articles weekly